Research
Five-country cross-national study on civic service and volunteering in SADC

VOSESA has conducted a cross-national study on civic service and volunteering in five southern African countries: Botswana, Malawi, South Africa, Zambia and Zimbabwe. The study focused on the form and extent of civic service programmes in these countries. Its aim was to document and analyse civic service and volunteering, and to examine the implications for social development policy and practice in a regional context.

The research took place during 2005 and 2006, and the study was funded by the Global Service Institute at the Center for Social Development (CSD) at Washington University in St Louis, Missouri, USA.

The findings of the study give substantial insight into the form and structure of civic service and volunteering, as well as who serves and volunteers in these countries. The final country reports and the cross-country report that synthesises the findings from the five country reports, can be downloaded below:


Articles focusing on key aspects of the findings of the study have also been published in a joint special issue of The Social Work Practitioner-Researcher, University of Johannesburg and the Journal of Social Development in Africa, School of Social Work, University of Zimbabwe. The special issue is entitled Research Partnerships Build the Service Field in Africa: Special Issue on Civic Service in the Southern African Development Community.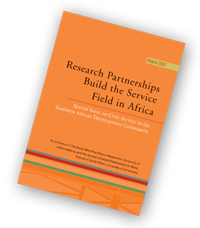 VOSESA's Five-Country Cross-National Study on Civic Service and Volunteering in SADC.
Read more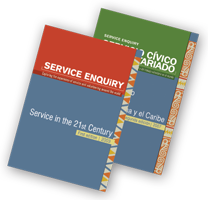 Service Enquiry, an online publication available free-of-charge that documents and analyses the experience of civic service and volunteerism in different parts of the world.
Read more


VOSESA's analysis of the volunteering response to the 2008 Xenophobic Attacks in South Africa and its potential for social change.
Download paper