International and regional volunteering
Youth Volunteer Exchange Programmes in Southern and Eastern Africa: Models and Effects

The research for this report was funded by the International Development Research Centre (IDRC) and conducted in partnership with Canada World Youth (CWY) and with the cooperation of Southern Africa Trust. This report explores two different models of youth volunteer exchange programmes in the southern and eastern African regions that contribute to development goals and integration. It provides good practices of youth volunteering programming so as to promote these models in the region and elements that can be improved in the program design of similar initiatives. Applying the collaborative inquiry and social engagement techniques embodied in the Social Analysis Systems (SAS2) methodology, the study was a comparative study of Canada World Youth south-to-south Youth Leaders in Action exchange programmes (between South Africa and Mozambique, Kenya and Tanzania) and Southern Africa Trust's SayXchange programme in South Africa and Mozambique. Three areas of impacts were identified: impacts on volunteers, host communities and host organizations. This research contributes to an emerging body of literature that seeks to address volunteering as a key element to realize the potential of social capital, cultivated through people-to-people interactions, which can enhance the possibilities of success of regional integration project and its development objectives.
To access the full report click here.
To access the shorter report click here.


International Voluntary Service in SADC: Host organisation perspectives from Mozambique and Tanzania

In 2010 VOSESA received funding from Trust Africa to conduct a study on the effects of international voluntary service on host communities, host organisations and volunteers in southern Africa. The study comprised qualitative and quantitative components and focused on two major European international volunteering programmes in the SADC Region: The German weltwärts programme, which is the largest international volunteering programme operating in southern Africa, and the International Cultural Youth Exchange (ICYE), which also has a presence in the SADC region.

The qualitative piece was conducted in October 2010 in Tanzania and Mozambique using a comparative case study design and focused on host organisations and host communities' perceptions of the effects of international volunteers. An adapted version of the International Volunteering Impacts Survey (IVIS), developed by the Center for Social Development at the Washington University, St. Louis, MO was electronically administered to volunteers sent worldwide by International Cultural Youth Exchange (ICYE) and volunteers sent to African countries by the German weltwärts programme.

For the executive summary, click here.

For the full report, click here.

For a copy of the volunteer survey only, click here.

Mapping international volunteering in southern Africa

Between June and August 2010, VOSESA developed and fielded a short online survey aimed at mapping the number and type of volunteers coming to the southern African region annually. The survey was sent out to a sample of approximately 201 international volunteer sending organisations. The sample was drawn from a report produced by  IVCO Forum in 2009 on international volunteer-sending organisations, as well as a list of ICYE programmes and a list of the Weltwärts programme implementing partners. Of the organisations surveyed, 61 responded from the following countries: Germany (27), United Kingdom (9), France, (5), Switzerland (4), Canada (3) Ireland (2), United States (2), Norway (2), South Africa (2), South Korea (1), Finland (1) Hungary (1), Ghana (1) and New Zealand (1). Initial data analysis was conducted on the survey in September 2010 and a short report was written up in November 2010 on the key findings. A final report will be shared in the course of 2011.

Models of international volunteering: Trends, innovation and good practice

VOSESA was commissioned by Comhlámh, an Irish volunteer-promoting and development organisation, to conduct research on models of international volunteering. The study focused on current trends, innovation and best practice in the field. A high level report was launched on 29 August 2013 in Dublin. The Irish Minister of State for Trade and Development spoke at the event. Download the report here.

The study and its findings was featured extensively in the Irish media with a front-page article in The Irish Times and a feature in The Journal.


Volunteerism for Peace in East Africa

This paper grows out of unique research collaboration among the Brookings Institution, the Center for Social Development, Washington University in St. Louis and VOSESA. Co-authored by Benjamin J. Lough (University of Illinois - Urbana-Champaign, Center for Social Development) and Jacob Mwathi Mati (VOSESA and University of the Witwatersrand) Volunteering, the paper explores how volunteers can contribute substantially to establishing and preserving peace. This paper describes various interpersonal, intergroup, and institutional theoretical perspectives to explain why volunteerism is particularly suited to peacemaking and peacekeeping. Special consideration is given to how involving young volunteers may be highly beneficial to peacemaking and peacekeeping. The paper also provides specific examples that illustrate how volunteerism is being used to prevent conflict, to mediate and transform active conflict, and to reduce the consequences of violent conflict.
To access the paper, click here.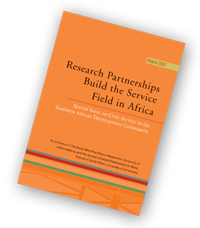 VOSESA's Five-Country Cross-National Study on Civic Service and Volunteering in SADC.
Read more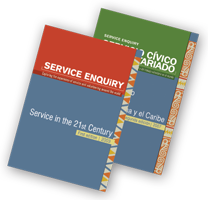 Service Enquiry, an online publication available free-of-charge that documents and analyses the experience of civic service and volunteerism in different parts of the world.
Read more


VOSESA's analysis of the volunteering response to the 2008 Xenophobic Attacks in South Africa and its potential for social change.
Download paper