Reports, papers and articles
Volunteering and Civic Service in Three African Regions: Contributions to Regional Integration, Youth Development and Peace

Funded by the Brookings Institution, this paper was a collaborative effort between VOSESA, the Brookings Institution and Ebenezer Obadare of the University of Kansas. The co-authors provide evidence of the different manifestations and models of service in the three African regions and discuss the impact of volunteerism on development in the regions. The paper concludes with collective insights and recommendations aimed at ensuring that volunteerism delivers on its promise and potential for impact on regional integration, youth development and peace. To download the full report, click here
The International Association for National Youth Service: Ninth Global Conference on National Youth Service – Alexandria, Egypt | October, 2010

VOSESA was commissioned by Innovations in Participation (ICP) to author a report of the International Association of National Youth Service (IANYS) 9th Global Conference on National Youth Service, held in Alexandria, Egypt, in October 2010. The conference was organised in partnership with the Bibliotheca Alexandrina, the John D. Gerhart Center for Philanthropy & Civic Engagement at the American University in Cairo (AUC) and Innovations in Civic Participation (ICP), the IANYS permanent Secretariat, and drew 200 participants from 30 countries.
The report identifies key issues that impact youth civic engagement, such as the need for an enabling environment for civil society, a supportive policy environment, and high-level government support for national youth service. The report highlights the intrinsic value of youth civic engagement and explores its role in promoting youth employability and entrepreneurship; advancing development goals; and fostering ideals of peace and respect in society. The conference report also discusses the need to assess the effectiveness of programmes and report finds there are significant opportunities for IANYS, and its members, to take active roles in advancing the youth civic engagement sector. For the full conference report, click here.
Volunteering and Social Activism: Pathways for Participation in Human Development

In 2009, VOSESA was commissioned by CIVICUS: World Alliance for Citizen Participation, International Association for Volunteer Effort (IAVE), and the United Nations Volunteers Programme(UNV) to write a high-level summary of a study conducted on perceptions of the relationship between volunteering and social activism among civil society actors. The paper illustrates how volunteering and social activism demonstrate both unique features and common characteristics. Together they combine powerfully to promote people's participation in development. The paper also discusses the role of volunteer infrastructure, volunteer management, perceptions of voluntary action and partnerships between and across sectors for deepening people's participation in the achievement of democracy and development objectives. For the full paper, click here.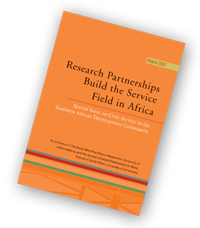 VOSESA's Five-Country Cross-National Study on Civic Service and Volunteering in SADC.
Read more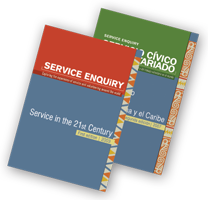 Service Enquiry, an online publication available free-of-charge that documents and analyses the experience of civic service and volunteerism in different parts of the world.
Read more


VOSESA's analysis of the volunteering response to the 2008 Xenophobic Attacks in South Africa and its potential for social change.
Download paper