How we work
Southern Africa has a long and rich tradition of voluntary action. VOSESA is committed to promoting a better understanding of the particular forms and meanings of voluntary service in the region and its role in development. VOSESA works through partnerships in southern Africa and internationally, and is responsive to the needs and interests of its partners.
VOSESA's key strengths lie in the following areas:
Research
VOSESA designs, customises, implements and manages research on volunteering and civic service in southern Africa.
Our research responds to the knowledge gaps on voluntary action in southern Africa, development priorities in the region, as well as the priorities of our partners. Importantly, VOSESA utilises in-country researchers to ensure that the country context is integrated throughout all aspects of the research process.
Publishing
VOSESA commissions, edits and produces publications on voluntary action and development through collaborative partnerships.
Our publications fill a critical knowledge gap by showcasing southern African perspectives on the nature, scope, contributions and challenges of volunteering and civic service in the region.
Learning Activities
Drawing on its research and publications, VOSESA convenes discussions and events, and participates in conferences and other forums to help shape the discourse about voluntary action and service from the perspective of countries in the SADC region. This work is geared towards influencing regional policies and programmes as well as fostering greater international connectedness and mutual learning among individuals and entities that promote volunteering and civic service.
Strategic planning
VOSESA provides strategic support to entities working on policy, programming or research related to volunteering and civic service in the SADC region.
VOSESA draws on its research as well as its wider understanding of volunteering and civic service internationally to provide insightful, creative and evidence-based support.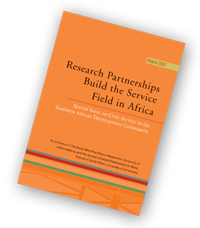 VOSESA's Five-Country Cross-National Study on Civic Service and Volunteering in SADC.
Read more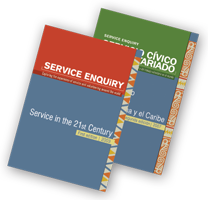 Service Enquiry, an online publication available free-of-charge that documents and analyses the experience of civic service and volunteerism in different parts of the world.
Read more


VOSESA's analysis of the volunteering response to the 2008 Xenophobic Attacks in South Africa and its potential for social change.
Download paper