VOSESA was commissioned by Comhlámh, an Irish volunteer-promoting and development organisation, to conduct research on models of international volunteering. The study focused on current trends, innovation and best practice in the field. A high level report was launched on 29 August 2013 in Dublin. The Irish Minister of State for Trade and Development spoke at the event.
South Africa's first conference on employee volunteering, Beyond Painting Classrooms, was held in Johannesburg from 13 to 14 August 2013 by FirstRand Volunteers Programme, Volunteer and Service Enquiry Southern Africa (VOSESA), and the Charities Aid Foundation Southern Africa (CAF SA). The conference served as a networking space for key stakeholders to share knowledge and promote learning about the practice of corporate support for volunteering in South Africa and its role in development.
The National Youth Development Agency (NYDA), in collaboration with the Flemish government, commissioned Volunteer and Service Enquiry Southern Africa (VOSESA) to conduct a study on youth volunteering perceptions and motivations in South Africa. This research is part of the agency's three-year initiative to advance youth volunteering in the country. The study, that was made public in December 2012, identified motivating and disabling factors that either motivate or demotivate young people to volunteer.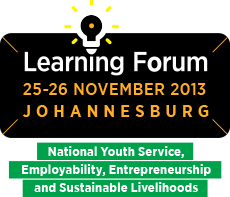 25-26 November 2013 in Johannesburg, South Africa: Join government, civil society and the private sector in a two-day conversation about the role of National Youth Service (NYS) in enhancing youth employability, entrepreneurship and sustainable livelihoods in sub-saharan Africa. New research on 19 NYS programmes in Africa and other regions shows that there are promising practices that can help integrate young people in the economy. Together participants will identify policy and programme strategies that strengthen the impact of NYS on youth unemployment and provide a better return on state and private sector investment.


18-20 November 2013 in Johannesburg, Durban and Cape Town, South Africa: Cultural Intelligence (CQ) is a person's ability to function effectively in situations characterised by cultural diversity. Now, CQ can be measured, developed and improved. Join Dr David Livermore of the Cultural Intelligence Center (Michigan, USA) and Buhle Dlamini as they introduce the concept of CQ to South Africa in Johannesburg (18 November), Durban (19 November) and Cape Town (20 November). Participants will also have a chance to assess their own CQ.
Further information »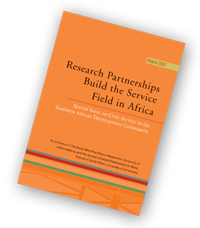 VOSESA's Five-Country Cross-National Study on Civic Service and Volunteering in SADC.
Read more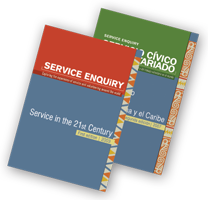 Service Enquiry, an online publication available free-of-charge that documents and analyses the experience of civic service and volunteerism in different parts of the world.
Read more


VOSESA's analysis of the volunteering response to the 2008 Xenophobic Attacks in South Africa and its potential for social change.
Download paper